Kalika Das Dutta, The Forgotten Dewan of Cooch Behar
Though princely states have been under the control of monarchical power, yet it was never that one king on the throne who managed the whole phenomena. Behind that one man rule was a robust structure of highly proficient ministers, who worked backstage and was never brought into the limelight. Their stories were lost with their work and their names remained confined within the thoughts of the ruling authority.

The state of Cooch Behar has been an ancient Princely state that traces its origin to the pages of Indian epics by the name Pragjyotisha. The western portion of this Pragjyotisha was the popular town of Kamarupa of the Guptas and Pala rule, which was later named as Cooch Behar after the ruling Koch Dynasty (1515-1949) literally meaning the "abode of the Koch". Lying in the northern part of modern day Bengal, Cooch Behar is in the foothills of the Eastern Himalayas at 26°22′N and 89°29′E and  is the only planned city in North Bengal region with remnants of royal heritage of Koch kings, started by Kamteshwar Viswasimha. However, the rule of the Koch kings were not glorious throughout. Cooch Behar faced serious threats from the rulers of Bhutan as well as other neighboring kingdoms which left the state in complete disarray and unrest.
This led the then ruler, Maharaja Dharendranarayan to seek help from the British East India Company of colonized India, resulting in a treaty of April 5, 1773. According to this, in return of liberating the kingdom of Cooch Behar from its enemies, the British annexed the kingdom of Cooch Behar. Consequently the Princely State, along with its royal authorities, went under the control of the British Raj. It was transferred to India in September 1949 as Chief Commissioner's Province appointed by the government of India, and was later merged with the province of West Bengal on 1st January, 1950 under Government Indian Act 1935.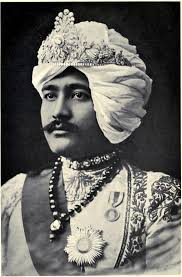 With several succession to the throne ensuing after the treaty of 1773, Nripendranarayan (one year old) ascended the throne in 1863 with a Regent accompanied by a British Commissioner, appointed as per the system of Dyarchy (rule of two) and a Dewan (Chief Minister). Nripendra Narayan, known as the pioneer of the modern Cooch Behar, along with his Dewan, Rai Bahadur Kalika Das Dutta (Calica Doss Dutt) achieved new heights of advancement during his rule. As a Dewan, his incredible administrative and management skills made enormous contributions in the development of the area. Popularly known as Dewanji Kalika Das maintained a very balanced relation between the company and the ruler, managing the state affairs meticulously and with diplomatic skills. Yet history remembers the Royals of Cooch Behar, while men like Dewan Kalika Das Dutta remains outshined behind the royal grandeur.
Remnants of Dutta's  brilliance are rarely found in the winds of present Cooch Behar, nevertheless this man had a remarkable life worth knowing. With his excellent administrative abilities and deft diplomatic skills, paired with an extreme genius brain, a calculative mind and a keen foresight, Dutta  was exactly what an administration needed. It is not at all surprising why he was reappointed as a Dewan for the second time by Nripendra Narayan, even after retiring from the judicial service under the British government.

Born on July 3rd, 1841, to Rai Golak Nath Dutta, a Zamindar of Merul Village in the Burdwan district of Bengal, Kalika Das was a gifted child. His mother's death was probably the first blow that he received at an early age. Growing up in an orthodox, superstitious, traditional Kayastha family of erstwhile Bengal, Dutta struggled incessantly to achieve his goals. Completing his education from Krishnanagar Higher Secondary School, Kalika Das shifted to Calcutta to pursue his B.A. degree in Arts in the Presidency collage. Graduating with a First Class in the year 1860, he started to pursue a degree in law, completing it in 1861. His dreams of taking up a job in the field of law (hakim) in the High court demanded an amount of Rs 500 and Dutta, a man of high self- esteem decided to earn it, without accepting any help from family or friends. This led him to take up his first job at Raja's College in East Bengal  or  present  day  Bangladesh  as  a  professor  of  Sanskrit.

Nripendra Chandra Bannerji wrote  in his autobiography, "At the cross roads, 1885-1946: the autobiography of Nripendra Chandra Bannerji's", that Kalika Das was one of the first youngest professors at the college. However, his father, Rai Golak Nath Dutta was strictly against this and had almost chased him out of their house in Merul. As Dutta's eldest son, Charu Chandra Dutta writes, Kalika Das had shifted from Merul to Calcutta for his studies and finally after being chased out of the house, with the help of Kaul Sahib, a British gentleman, he managed a job as a lawyer in Cooch Behar, right after his marriage. Before rendering his valuable service to the state of Cooch Behar, Dutta was appointed in the judicial service of the British East India Company, since 1962. His service towards the government earned him the  title of Rai Bahadur from the British and conferred him with the prestigious CIE (Companion of Indian Empire). Thus began the journey of becoming Dewanji of Cooch Behar.

From 4, Gangadhar Babu Lane, Bowbajaar, Calcutta, Kalika Das ended up permanently in the Sagar Palace also known as the Dewan-Khana of Cooch Behar. When Kalika Das joined, Cooch Behar was undergoing a transitional phase. Initially appointed as the Deputy Tax collector of Katwa, the British Government later appointed him as the Dewan of the Cooch Behar state. Dewanji's dedicated service pushed the estate towards an economic success, boosting the royal treasury and increasing the assets.  At his retirement in the  year 1883 with  a monthly pension of Rs. 1200 and a leave of a month prior to superannuation from the British Government, Dewanji was reappointed in the post of Dewan by Raja Nripendra Narayan.
In the same year, the decision to form the Town Council in Cooch Behar was finalized. As has been documented in the orders, produced by Mr. T. Metcalfe on the behalf of British government, it was on the advice of Dewan Rai Bahadur Kalika Das, that Bhupbahadur Nripendra Narayan agreed on 23'd April, 1883 to form one of the first people oriented local self- government in Cooch Behar. A vigilant diplomat and a meticulous administrator, Dewanji was appointed as one of the first among the nine senior most members of the Town Council under the British government. He became one of the significant initiator of the Cooch Behar Town Council, the first of its kind and leading the state towards modernization.
The native population of Cooch Behar known as Rajbangshis consisted of the Rajguns (the Royals), and Muslims. However, the Rajbangshis, except the royals, were uneducated and poverty stricken mass, surviving in a deplorable condition. This affected the economy severely, dealing a great blow to the administration. With the coming of the British, the scenario changed rapidly. Lands were reclaimed from the natives and handed over  to Hindu migrants, who were called upon to take up jobs in the administrative post.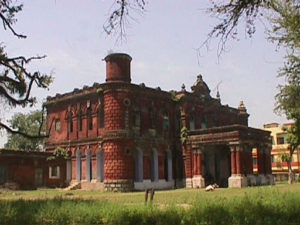 These educated Hindu Bengalis formed the class of aristocrats. Dewanji himself was a part of this and did help in immigrating Bengali Hindus for the same.  Thus, a tiff between the Rajbangshis  (native) and the Non Rajbangshis (non-native or Bhatiyas) was inevitable. Interestingly, as has been reported, Dewanji even after being a non-native were very close to the Rajbanshis, who came to  seek his advice for all their issues, revering him as their guardian. It was not only the people, Raja Nripendra Narayan too trusted Dewanji blindly, while the British Government shared a similar feeling towards him.
He was almost the anchor to the ship called Cooch Behar. His contribution in the state's prosperity is irreplaceable. From fixing the revenue of the land to sanctioning and revising the allowances of the Royal princes; from planning the annual budget to authorizing the amendment bill for the voluntary sale of land, every detail was under his control. Land revenue was revised twice during his tenure. The exhaustive reports that he submitted to the king at the end of every financial years stands as an evidence to his precision. As has been gathered from those reports, the income of the Royal treasury had increased by a 324% in a span of 55 years from 1872 to 1927, most of which was his contribution.
But this was not a result of sheer random increase of taxes. Dewanji, being a people's man, increased the revenue in those areas where production was high and decreased the same in areas with low productivity, especially infertile areas like Dinhatta Daribas. On one hand he prevented the Maharaja from unnecessary random investment, channelizing the money towards development of schools, colleges, hospitals and other welfare services for the people, while on the other hand, he guided the king to grant land lease for jute and tobacco production.
His dedication towards his people was evident in every decision he took. From constructing the Feeder Road for easy traffic near the Railway Station and compensating those who lost their land in the construction of Haldibari Railway (Eastern Bengal mainline connecting Darjeeling, Calcutta, Siliguri) to sanctioning an extra amount of one lakh rupees from the Royal treasury to restore the areas affected in the 1897 earthquake, Dewanji stood by his people, like a massive tree casting his shadow of protection. Many instances remain an evidence  to  Dewanji's  devotion  toward  his  work.
Cooch Behar  being a Dyarchy under  the  British government, incurred high expenses in its administrative structure. So, being  the Dewan, Kalika Das Dutta appealed to the British government to place one chief for the state instead of two. He even appealed that, if need be he would happily step down and allow his British counterpart to take over the whole responsibility. The British government refused to let him go because of his management skills and his rapport with the people.
As political, social and economic stability of an area is a result of efficient administration, similarly an effective administration is the outcome of a balanced relation between the king and his ministers. Dewanji's relation to Maharaja Nripendra Narayan was that of respect, trust, and loyalty. While the Maharaja attended the marriage ceremony of Dewanji's son as a family, it was with Dewanji's advice the Maharaja decided for a second marriage, after his first with Suniti Devi, Daughter of Keshab Chandra Sen. Seated just beside the Maharaja in the Court, Dewanji took active part in the proceedings. However, it was not only with the Maharaja, Dewanji shared similar bonds with all his colleagues and higher authorities.
The British government was equally awestruck at his efficiency. Charu Chandra's 'Purono Kotha', narrates that on one occasion Lord Elliot arrived in Cooch Behar for inspection. Known for his rude behavior and complaining nature, the Maharaja called Dewanji for help. It is said, Dewanji briefed everyone to continue with their work, without paying much attention to Lord Elliot and he himself went around with Lord Elliot for inspection. Lord Elliot was so impressed with his work and management, that he wanted to confer on Dewanji the title of 'Raja', which he refused humbly.
Yet, being a Dewan was not all so glamorous. Many a times he had been misunderstood for his decision. Some sources mention  that there was one time near the end of his tenure that some decision of Dewanji offended Nripendra Narayan. Darjeeling and Jalpaiguri, initially a part of Cooch Behar State was taken by the British in the absence of the Maharaja in 1908. It is said that Dewanji traded these two areas to the British in exchange for Bhoda and Chakla. When the Maharaja returned, he was offended with this decision, yet had nothing to do. However, no explanation of this act was given in any of the sources so concluding based on the incident would be futile.
In his personal life, Rai Bahadur Kalika Das Dutta had a progressive mind with a liberal outlook, highly influenced by the western philosophies and Brahmo ideology. His association to great personalities like Keshab Chandra Sen of the Brahmo Samaj, Babu Debendranath Tagore, Ishwar Chandra Vidyasagar and others had profound impact on him. Being a follower of monotheism, he hardly had any religious inclination and 'work was worship' for him. He believed education and physical training were the basis to shape up a complete  human being. Charu Chandra narrated, how his father insisted on physical training and regular visits to akharas. His love towards academics was seen in his support for women's education. He helped in the development of Suniti Devi College named after the wife of Nripendra Narayan.
Back in his home town he was an active member and helped in the founding of The Indian Association for the Cultivation of Science, established in July 1876 at 210, Bowbazar Street, Kolkata. The institution founded by Dr. Mahendra Lal Sircar aimed for higher learning and foster high quality of fundamental research in disciplines of the basic sciences. His love towards academics pulled him to be member of the Bangiya Sahitya Parishad Library that founded its branch in Rangpur. Babu Kalika Das was actively associated with all these activities and especially with the establishment of the Rangpur Sahitya Parishad in 11th boisakh 1312 (Bengali calendar 1905 (English calendar)), however it was closed around 1970 during Bangladesh war.
With sheer influence of Brahmo ideology in his life, Kalika Das Dutta's name has been closely associated with the genesis of Brahmo Samaj in Cooch Behar. He became one of the youngest Brahmo Crusader of East Bengal. Cooch Behar's miniscule Brahmo population only consisted of the Non Rajbangshi Hindu Bengalis, including teachers of local schools and colleges, administrative officials, medical appointees and bureaucrats. Majority of these gentlemen belonged to the upper strata of Hindu caste society and were university educated, the ones who formed the backbone of the new socio-religious Renaissance movement of 19th century Bengal. Cooch Behar Brahmo Samaj began their foundation with them.
The Maharaja's marriage to Keshab Chandra Sen's 13 year old daughter, Sunity Devi, brought in a breech in the institution of Brahmo samaj in 1866, which resulted in its division. While the Maharaja and his family became a part of Keshab Chandra Sen's Nava Bidhan Brahmo Samaj, (formed as a result of the divide), Dewanji remained in the other faction – the Sadharan Brahmo Samaj. It is obvious the relation between the two factions was not very cordial yet did not create much chaos either. Dewanji continued to pursue his ideology as a member of Sadharan Brahmo Samaj. Earlier in his life along with Braja Sundar Mitra, he was associated with the establishment of the Brahmo Samaj in Syllhet, which was later joined by eminent personalities like Bipin Chandra Pal, Raj Chandra Chaudhuri, Brajendranath Sen and so on. Dewanji remained the secretary of the Cooch Behar Sadharan Brahmo Samaj.
It is interesting to note that not much is known about Dewanji's wife, the nostalgia portrayed in Charu Chandra Dutta's book is one of the few evidences. Born to the Zamindar family of Rayena district of Burdwan, Dewanji's wife grew up in an influential powerful family. With such a dominant background and married to such an eminent personality could not have much impact on her life. She continued to live a mundane life as any other spiritual Hindu lady. Surrounded with people of monotheistic Brahmo ideologies and western thoughts, she continued to practice her beliefs silently.
As Charu Chandra Dutta recalls, she would interact and mingle with all the foreign guests whom Dewanji invited over, but would take a bath after they left without anyone noticing. Neither did she discuss about her beliefs nor did she ever ask her children to follow them. A lady who took care of her family and maintained her beliefs and principles. Her warmth and welcoming behavior made her popular not only among the family and house helps but also among Kalika Das Dutta's professional acquaintances including the foreigners.
As a strict father, Kalika das tried to inculcate his ideas and thoughts amongst his sons. His pro-British attitude and apathy towards the Indian Independence struggle were evident from the writings of Charu Chandra Dutta, from forcing English attires on him to sending him off to London to keep him away from the fever of freedom struggle. Charu Chandra Duta narrates how his father wanted him to sit for the ICS examination and join  the administrative services under the British government. Dewanji was against caste discrimination and racism and had rebuked his son for refusing to eat dinner, cooked by a Muslim chef. However, even though he was not an atheist, he  did not encourage any kind of religious activities, but did not strongly condemn them either. For instance, listening to kirtans and bhajans were strictly prohibited while theatres were allowed for his children.
Interestingly no matter how strict he was with his children, he did all that was needed to bring them up, with similar dedication towards profession and family. From taking his three sons, Charu Chandr, Atul Chandr and Nirmal Chandra for weekend camps to guiding them with their career he did his duties as a father.  His warm behavior towards the house-help, made them worship him. He was a kind man who was loyal to his work and to his people. Dewanji had stark differences in opinion with his son Charu Chandra. While Dewanji remained loyal to the British government, Charu Chandra Dutta  joined Aurobindo Ghose associating himself directly to the freedom struggle against the British. Yet the sweet fatherly affection was seen throughout. He went on protecting Charu Chandra, throughout his anti- governmental endeavors without supporting him directly and looking after his family in Charu Chandra's absence.
Yet this massive personality disappeared into oblivion. A man who ruled over the hearts of people for almost half a century vanished with the end of his term. Unfortunately, even after leading such a significant life, achieving such heights of success, Dewanji remained overshadowed behind the royal grandeur, only to be forgotten by his people. It is disheartening to witness how Bengal erased him from History and Cooch Behar fails to recognize his name anymore. Today, Dewanji's name exists only through 'Kalika Das Road' and 'Kalika Bazaar' of Cooch Behar. His descendants are strewn all over the country, unidentified and anonymous. It is a historical disgrace to see a self-made man with such a phenomenal life, a treasure that Bengal should have boasted about, lay buried in the sands of time erased from the memories and histories of Bengal. Probably as Tagore puts it,
"..Somoe Karo je noye, ora chole dole-dole,
Gaan haye dube jaye kon kolahole…